Because of being the last person on the planet without a cell phone, I missed out on the chance to catch someone screwing with my friends in the Jordan Creek tunnel. I did get to see the thing flood big time, though.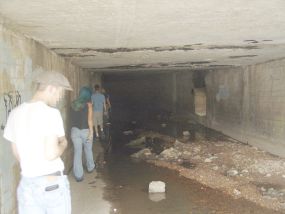 A few weeks back, I was at Hiccup's house working on the site all night. She only had one phone line, so if anyone had called it would've gone straight to her voicemail. Later on, while I was still working, I got an instant message from Underdog wanting to know where the hell we'd been all night. He said they'd been trying to call us all night about a weird experience they'd had in the Jordan Creek tunnel. I got offline, and, sure enough, we had several voicemails from them.
We had to listen to them a few times to figure out what happened. Apparently Underdog, David Keetz, and Anne had been down in the tunnel that night and had someone or something stalking them the whole time. Halfway through the tunnel, something had started making an extremely loud pounding sound, as if someone had been slamming their foot down on the concerete.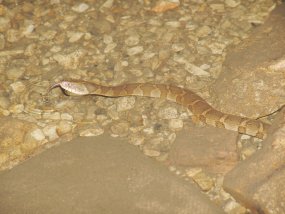 They fled the tunnel at first, but later went back in twice to try and determine what it was. The sound was still there, and this time it moved with twenty feet of them, as if someone was coming closer. They also heard voices talking at either entrance of the tunnel. It was around this time that they called us to come down and help them figure it out, but we hadn't known until they'd gotten home and contacted us online.
The next day, we met up with David Keetz, Anne, Underdog, and Willard in the light of day to head back down in the tunnel and try to figure out what was making the sound. We started out at the western entrance and walked all the way to the eastern one, but the only thing we saw that was even remotely scary was bats hanging from the ceiling.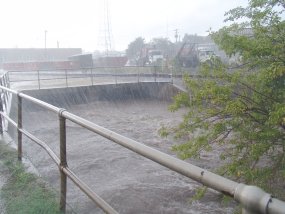 So, we started walking back the way we came, this time through the side of the tunnel that had a foot of water in it. A little way in, I asked Underdog quietly if he wanted to see something funny. He said sure, and I wandered up behind the rest of the group. Out of nowhere, I SCREAMED the loudest, highest-pitched, most girly scream I could manage. Everyone reacted and Anne immediately let out a similar scream in response, except hers was completely real. I just laughed and said, "Boy, that water's cold."
On the way out of the tunnel, we ran across a little snake bobbing around in the creek. We weren't sure whether it was a copperhead or something less dangerous. I got some nice closeups of it, determined to figure out what it really was when I got home. From the pictures, I was able to tell it was just a harmless little water snake.
We left the tunnel after that and went down to an abandoned building we knew about. Anne and I had been to the building before, but it was new for everyone else. We weren't even in the building five minutes when everyone took off running yelling that there was a burglar alarm, which hadn't been there when Anne and I had explored the building. I ran to look, and, sure enough, there was a motion detector attached to a wire that presumably ran to an alarm.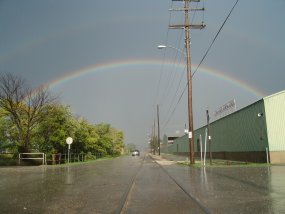 We all took off running down the street in the pouring rain, and we got just out of sight of the building when a loud whooping alarm started going off. The alarm had some kind of thirty second delay built into it, and we had thankfully gotten away before the thing had started going off. Everyone got into their cars and started getting out of the area.
Since it was raining pretty good at this point, Hiccup and I decided to go down to the eastern entrance of the tunnel and see if the water level had come up any. I'd always had the idea of rafting the Jordan Creek tunnel, and today seemed like as good a day as any. When we got there, the water level had only come up a few inches, but we sat there and watched as it started getting bigger little by little.
We found a place to hide the car and started airing up my inflatable boat. It took maybe ten or fifteen minutes, because the pump was really slow. When we finished, we loaded up what stuff we wanted to take and ran back down to the entrance with the raft.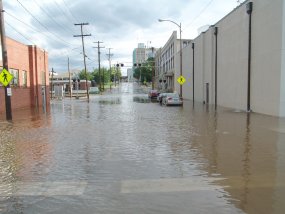 We were shocked when we got there. The water, which had previously been less than a foot deep, was now around seven feet deep. There was only about two feet between the water and the ceiling. I just shook my head and said, "No way. If we do that we'll die." So, we just sat there watching as the water level continued to rise. It just kept going higher as the rain kept coming, until it was sloshing against the ceiling of the tunnel.
Out of nowhere, something exploded down the street, sending sparks everywhere. I knew immediately it was a transformer blowing from the lightning, and I started driving down toward it to try and get a picture in case in blew it again. It blew two more times as we were heading toward it, each time with a loud zapping sound and a shower of sparks, but I wasn't able to get there in time for a picture.
We drove back to the eastern entrance when it became clear it wasn't going to blow again and waited to see what the water would do. The rain finally stopped abruptly, and a nice double rainbow settled over the city behind us. We could tell the water level wasn't going up anymore, so we decided to drive down and see what the other entrance looked like.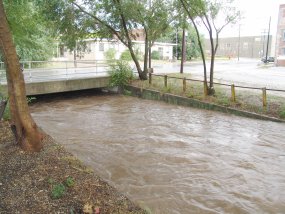 Before we even got there, we founded several intersections flooded. It was all over the road a few feet deep, including several places where the water was literally squirting OUT of the storm drains. Apparently the tunnel had so much water running into it that the water pressure was forcing water back out of the drain tunnels all over the place.
At the western entrance, water was pouring out of the tunnel like I'd never seen. It came out of the tunnel, ran under a bridge, and met some water that came out of another tunnel. There, it flooded everywhere, all over the railroad tracks even. It was insane.
We went back to the eastern entrance once more after that, but it had barely changed. We thought about waiting around for the water to go back down enough to raft it, but there was no telling how long that could've taken. So, we packed it up and headed on home.