Several weekends back, piplnr65656 and I checked out an abandoned lodge that's probably not long for this world.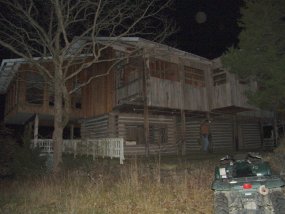 Piplnr and I met up at a gas station nearby early in the night. From there, we hopped into his truck and drove over to a parking spot close to the area. Piplnr had his ATV in the back of the truck, and he unloaded it and we hopped on. That's right--I'm not too proud to ride bitch.
We drove on into the area from there, passing an unfinished man-made lake and a wooded bridge. We stopped at the lodge and proceeded to check it out. It was a log building, ridiculously expensive and almost completely finished. Someone had spent hundreds of thousands of dollars on this building, and it had apparently never been used. It was a shame to think it might be getting torn down.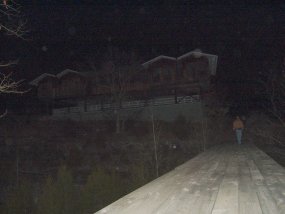 We spent a little while checking out the inside of the building and the bridge in front of it. There was almost nothing inside, although the building had apparently been wired up at one time. There was a dance area and bar up on the top floor, as well as a large outdoor deck on the bottom floor. It would've made a great headquarters for the Underground Ozarks corporate office.
When we were finished there, we hopped back onto the ATV and drove farther into the area. There was lots of construction going on, and there were plenty of areas we couldn't have gotten to in a conventional vehicle. Mostly, there was a whole lot of nothing, although there was construction equipment here and there.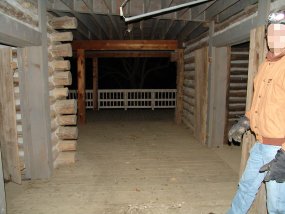 We stopped when we reached what appeared to be the only other building left standing. It was a small little cabin, probably big enough for one person or a couple. It was finished on the inside, although it was in a pretty bad state. We looked at what there was to see on the inside, then went around to the garage and basement area, although there wasn't much there.
After that, we hopped back onto the ATV and drove around for a while longer, trying to see if there was anything else worth checking out. Unfortunately, the most interesting thing we saw after that was a surly skunk wandering through the dark. So, we headed back to piplnr's truck and called it a night.