A few months back, Hiccup and I went down to Arkansas to check out the Dodd City Schoolhouse and then on to Cotter to check out a local train tunnel.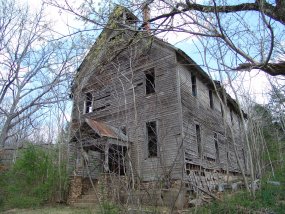 Hiccup and I started out the day by getting up early and heading south toward Arkansas. I'd only been to the Dodd City Schoolhouse once before, when Slim Jim and myself had stumbled upon it by accident a few years back, so I didn't really remember where it was. Hiccup and I had even tried and failed to find it in the dark shortly before this trip. However, since it was daylight and Dodd City was about the size of a postage stamp, I didn't figure we'd have any problem finding it this time.
Once we started driving down a few of the back roads, I remembered more or less how Slim Jim and I had found it. We came upon the schoolhouse almost immediately, but the people living in the house directly beside it were outside mowing the lawn so we just did a quick driveby. Hiccup and I talked about whether we should just go into the schoolhouse anyway, or whether we should ask those people if they minded us going in there first. If they said they did mind, though, we pretty much wouldn't be able to do it.
We went back, pulled into their driveway, and started chatting with them. Thankfully, the natives were friendly. It turned out they didn't know who owned the place either, but they were just as interested in it as us. The guy that lived there said he didn't mind if we checked it out, and he and his brother (I think) went and inspected it with us.
The Dodd City schoolhouse was as amazing as I remembered it. The building was two stories tall and in incredible shape for a building that was over a hundred years old. Unfortunately, there did appear to be more graffiti than the last time I was there.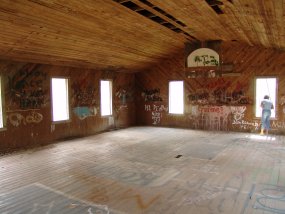 We went inside and checked out the bottom level first. It was just a large empty room with a dirt floor. There were scattered boards here and there and wooden beams holding up the ceiling. There wasn't too much to see, so we went up the wooden stairs to the upper floor.
The upstairs turned out to be more interesting. It was another large, empty room, but this one had apparently been some sort of recreational area. There had once been basketball goals at each end of the room, and you could still faintly make out the court lines on the wooden floor. What was also suprising was how sturdy the floor felt despite the age of the building. And other than a few boards missing from the ceiling, the whole room was in great shape.
Next, I decided I had to do something that I hadn't done the last time I was there. I wanted to climb up into the empty belltower at the top of the building. So, I headed to the front of the building, went up a broken ladder, and started pulling myself up through the rafters.
From up there, you really couldn't see that much. We were basically down in a little valley surrounded by trees, but I took a few pictures anyway. Then, I went back down, handed the camera to Hiccup, and climbed back up again so she could get some pictures of me sitting in the belltower.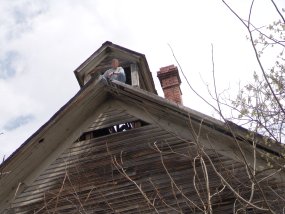 When that was done, I came back down and we wandered around the outside of the schoolhouse with the two guys we'd met. We found two separate outhouses (boys and girls?) and checked out a long rock wall that ran alongside the nearby creek. The wall led right up to a small bridge that crossed the creek directly in front of the schoolhouse.
With that, there was nothing left to see. We thanked the neighbors for letting us check the place out, told them about our website, and gave them a sticker. Then we got back into the car and started heading south toward Cotter.
Once we got there, we had to drive around a little while looking for the campground my parents and brother were camping at, but we finally found it down by the river. We hung out for a while down there, checking out my parents' camper. There was a huge railroad bridge spanning the water there that had an old section in the middle that used to rotate to allow tall boats to go through. The bridge was begging to be explored, but there was absolutely no way to walk across it without being seen by everyone in the area.
We got some stuff together after that and started walking up the hill toward the railroad tunnel. I'd brought my ten million CP spotlight, but it hadn't charged fully in the car on the way there, so we were stuck with flashlights. It wasn't an extremely long tunnel, but it would've been nice to have it anyway.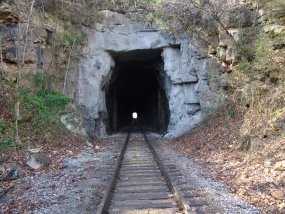 When we got to the tunnel, I could see that the outside of the tunnel had been reinforced with spray concrete. Beyond that, the inside was shored up with plain concrete walls and wooden beams before giving way to natural rock walls. It did appear, though, that the ceiling had been sprayed with concrete in places as well.
Most of the walk down the darkened tunnel was pretty uneventful. It was just a typical railroad tunnel, with rocks and debris laying across the tracks in places. However, as Hiccup and I were walking along behind everyone else, a rock about the size of VCR suddenly slammed to the ground in front of us. It had just suddenly broken away from the two story ceiling, as many other rocks along the tracks evidently had. I was really happy we hadn't been walking a little faster.
A little farther down the tunnel, we came across something else interesting. Laying in between the railroad tracks was the body of an opossum with its head cleanly cut off by a train. We found its head about ten feet down and on the other side of the rail where it had been decapitated. A little past that, we also found a dead raccoon that had met its fate in the tunnel, but its head was still firmly attached to its body.
We reached the other side of the tunnel pretty quickly. Unlike the other side, this one wasn't reinforced with concrete and was just bare rock. We walked on past it a ways until we came to a small bridge spanning a dry creek. There, we spent a little time dropping rocks off the bridge and trying to nail pieces of junk down below while my stepfather wandered a little farther up the tracks.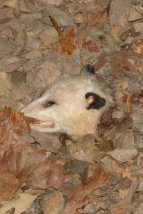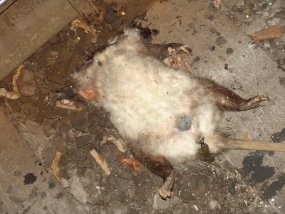 When my stepfather returned, we went back the way we came. This time we just made a quick walk back through the tunnel without stopping to look at things. We also managed to avoid having any falling boulders nearly crush our skulls.
We visited with my parents for a little while back at the campsite, then Hiccup and I decided to drive over to Cotter Springs Park before we headed home. My parents had told me about an awesome rope swing they'd had set up over there, and they weren't kidding. Just beside the park, there was a large pool of water where several springs gurgled up out of the ground. There, they'd embedded a massive steel girder into the ground and attached a rope swing to it. I swang out on the rope a few times, but it was spring when this happened and way too cold to swim. Not to mention that it was freezing cold spring water I'd be landing in. Hiccup did wade out into it a little bit, though.
When we were getting ready to leave, a bunch of teenagers showed up and started heading over to the rope. We went over and watched them for a bit, thinking they might be good for a few pictures. A few of them swang out a few times, but none of them jumped in either. However, we did get to see one young guy swing out and then completely bust his tailbone on the boulders when he swung back in. It still hurts thinking about how he slammed into them. Judging by the funny way he went walking off, though, it hurt him a lot more.
When we were all done exploring and taking pictures for the day, we loaded back up into the car and started making the long drive back to Springfield.