While on our St. Louis vacation, Hiccup and I went with Memory_machine and Chris to check out Falstaff Brewery one more time.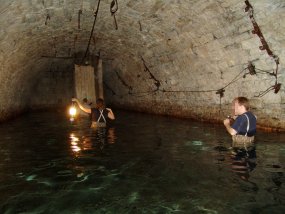 Hiccup, Memory_machine, and I met up with Chris near the brewery. Last time, I had been the only one with waders, and no one else had gotten to explore the flooded brewery cave below the brewery. This time, I had my waders as well as several pair of cheap vinyl waders I'd bought for everyone else to use. I got three pairs of them out and passed them out and we were on our way.
Once inside the brewery, we were surprised to run into three guys wandering around looking at stuff. We talked to them a bit and it turned out they had seen the place on the site and wanted to check it out. They decided to come watch us go down into the water. I told them if I'd known they were going to be there, I would've brought three more pairs of waders from my vehicle for them.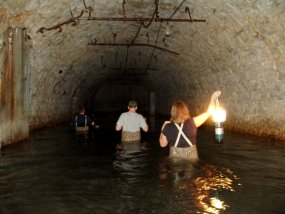 Down in the cave, we all strapped into our waders and lowered ourselves down a rickety old ladder. I discovered right away that the water was much higher than the last time I was in there. In fact, it was so high that I wasn't going to be able to walk to every part of the cave where the water was deepest. And since the cheap waders everyone else were wearing were even shorter, they were even worse off. Still, everyone got down in anyway and we started checking it out.
We walked the length of the two main chambers, this time with my propane lantern to light the way. I also had my tripod and took several amazing long exposure shots of the interior. Last time, it had been winter and the warmth of the cave had caused a fog that made pictures almost impossible. This time, it was much more accomadating.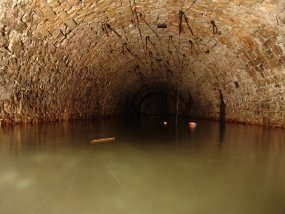 We made a big loop through the two chambers then started heading back. I stayed behind for a few minutes to take some more pictures, then I followed along. Everyone was pretty wet from the higher-than-normal water level, but it was still fun.
With that, we stripped out of our waders and made our retreat.