Last summer, we held our second annual Underground Barbecue in the Jordan Creek Tunnel. And yes, I'm WAY behind on my blogging.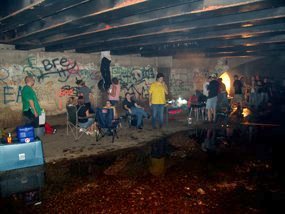 That afternoon, a few hours before dark, Hiccup and I met up with several of the group down at the tunnel entrance, as well as several out-of-towners from Kansas City, to start setting things up for the barbecue. Just like last year, it ended up being a huge ordeal to get everything hauled back there, but we eventually did. Also like last year, we were having the barbecue in a large, ventilated section of the tunnel almost half a mile deep.
Once we got everything inside, I quickly went to the surface and ran power down into the tunnel. When that was done, we hooked up a nice pair of 500 watt halogen lights I'd brought and lit the place up. Someone else started firing up the two grills we'd brought, and I started hooking up the projector so we could show some movies on one of the bare tunnel walls.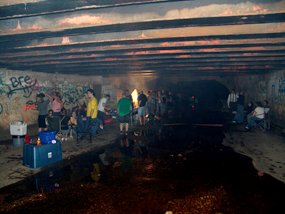 I also had some of the guys take paper bags and put lit tea candles in them every so often down the length of the tunnel, since the barbecue location was so far from the entrance. Last year, we'd had people come who hadn't known the barbecue was that deep inside and they'd given up and turned around. This time, I wanted them to be able to follow a trail of glowing paper bags.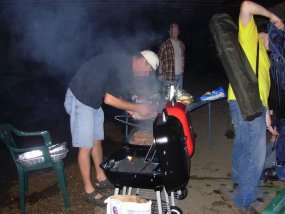 Right around dark, everyone started showing up. I wasn't sure how many people we were going to end up with. Last time, three times as many people had showed up as said they were coming. This time, we had almost a hundred people saying they were coming, so I wasn't sure what to expect. Less or more, I had no idea. All in all, we had about fifty people show up through the night. Since I bought enough food for a hundred people (which I thought was conservative at the time), we ended up consuming a little less than half of it.
The night went pretty well, and I think everyone had a pretty good time. We had people from both the St. Louis and Kansas City area drive down to attend. Thanks to Brouser doing the vast majority of the grilling, everyone got fed. We also showed Teenage Mutant Ninja Turtles on one of the walls with the movie projector, as well as the explorer classic The Goonies. It was pretty awesome kicking back and watching a movie about sewer mutants in a sewer tunnel. Youthsonic and some of the guys from Kansas City also gave a rappelling lesson down in a tall stretch of the tunnel. We also got to meet a bunch of people from the forum that we'd never met in real life.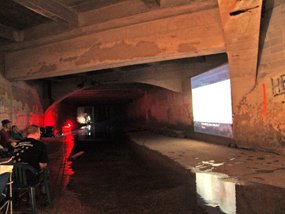 After the Goonies was finished, we started packing up to leave. Getting out with all the stuff ended up being an even bigger ordeal than getting it down there, but we managed to get it out and into our vehicles without getting busted.
With that, we said our goodbyes, and we went back to Hiccup's with several of the out-of-towners to crash for the night. All in all, another successful Underground Barbecue.