Yes, that's right! On a recent adventure Silverstreak, White Rabbit and I explored the hell out the main St. Louis public Library! They had all these crazy books and crap!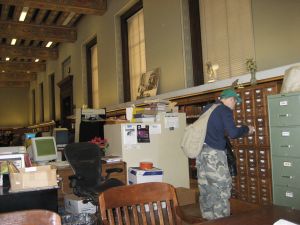 Our mission, and one of our current focuses, is finding out as much as we can about the many historical (and these days, somewhat forgotten / legendary) caves that abound under the streets of St. Louis. At this point, we have been able to gain access to at least three different brewery caves, but we know there are many more that are still waiting to be rediscovered.
All of us becamse obsessed with this endeavor after reading "The Lost Caves of St. Louis" by Hubert Rother (is it Hubert or Herbert? I can't remember), or as we all refer to it: "The Bible." We know that many of the caves are still out there, so it was White Rabbit's idea to see what information we could find at the local library. Unfortunately, very little. I am sad to say that the local historical records at our main city library are horribly unorganized and incomplete. What we did learn, however, was that on cold winter days, the city library is a warming shelter for many homeless persons. It made me sad to see that nearly every chair was filled by a homeless person with a magazine in front of them. I'm just glad they had somewhere warm to go where they have acesss to the current issue of Cosmo.
After leaving the library a little disappointed we headed to a certain city park where it is rumored that one of the lost caves still exsists underneath. Recently, the water mysteriously drained out of the lake in the park (into the cave below perhaps?) and a number of sinkholes opened up in random places.
We didn't find the cave, unfortunately, but Silverstreak did find the biggest damn crawdad I've ever seen on part of the dried up lake bed.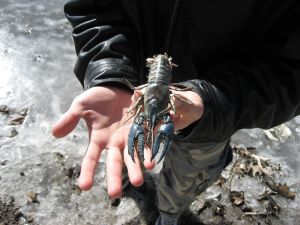 We also investigated the back yard of a gentleman who lives near the park. One day this man had been trying to clean leaves from this drain with a metal bar. At one point, he lost grip on the bar and it spent four seconds falling before clanging against a soldid rock floor somewhere far beneath. He thinks that part of the sewer pipe had rusted away and the bar fell into some kind of void. We were optimistic, but then saw the pipe he was talking about.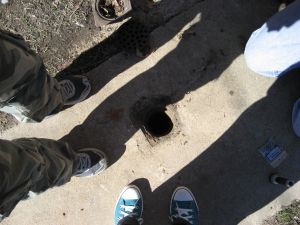 We didn't find the cave, but the property bears more investigation, I think. We then headed to the wreck of the WWII minesweeper Inagural, which lies about a half mile south of the arch along the St. Louis bank of the Mississippi River. The Inagural used to be a floating museaum along the St. Louis Riverfront, but tragically came loose from its moorings during the flood of 1993. It now lies on its side in shallow water just off the shore, rusted and dented in many places by passing barges. About half of the wreck lies above water today, much of it filled with rubble and other river debris.
There is talk that Robert Cassilly, owner and designer of the St. Louis City Museum, has plans to raise the ship as a piece for his in-the-works project at the old cement plant on Riverview north of St. Louis. I certainly hope that this pans out, since the Inagural is such a historical ship that should not continue to rust in the Mississippi River.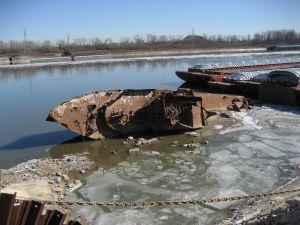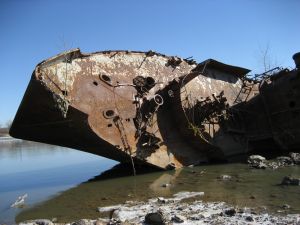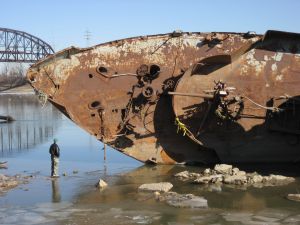 We began discussing what would be needed to get closer to the wreck for pictures. Silverstreak began throwing rocks into the river, hoping to create stepping stones to bridge the 15 foot gap between the shore and the wreck. Before he could accomplish this, however, White Rabbit had removed his shoes and was wading up to his knees in the icy Mississippi! What a madman! He eventually climbed up onto and into the Inagural, even posing for some awesome photos sitting on top of one of the remaining guns!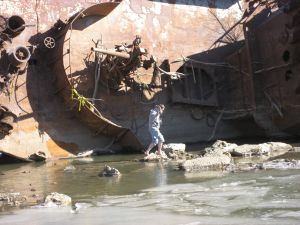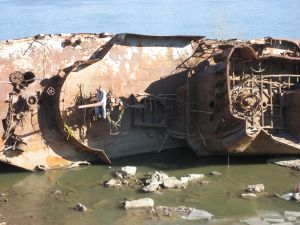 I didn't feel like following, because I have this thing with frostbite.....I don't know, it's weird. Instead, I climbed to the top of the nearby cement plant-looking place. From there I got some cool photos of the downtown skyline and the wreck below. Silverstreak took some pics of me from below, but he is an unreliable bastard and hasn't emailed them to me (kidding, dude).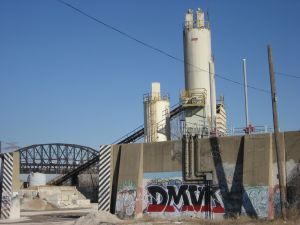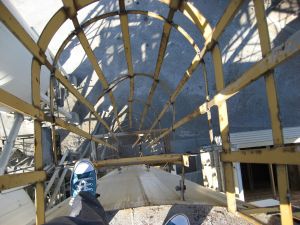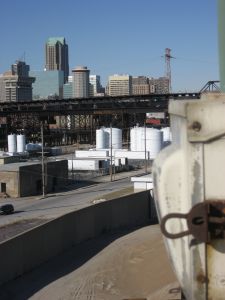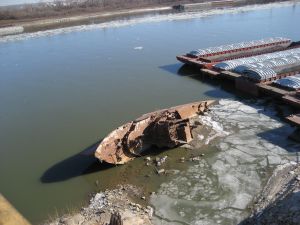 The good news is White Rabbit didn't suffer any long term damage, but he did piss me off by taking a long time to change his pants, socks, and shoes. I don't know, something about them being cold and wet and it being 25 degress out. What a wuss.