After White Rabbit, Silverstreak, Chris and I visited the Inagural, we still had plenty of time left for some other excursions. White Rabbit had said that he really wanted to see the Eads Bridge, and I had been told by a certain individual that there was a staircase near the Landing Metrolink station that lead down to lower and older levels of the Eads Bridge. It didn't take much discussion to decide where we were going next.
The Eads Bridge was completed in 1874, and at that time was the longest arch bridge in the world at 6,442 feet. Today it carries four lanes of highway on its uppermost level, and two Metrolink tracks below. It is one of the most historic and recognizable landmarks on the St. Louis Riverfront.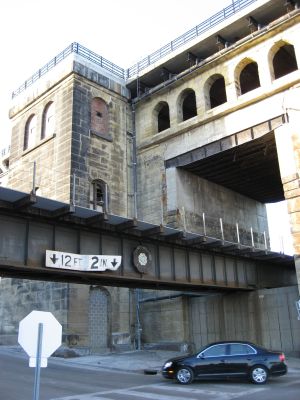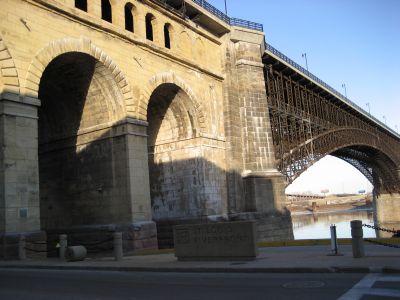 We made our way to the Metro platform and waited for a moment when there were no passengers standing around so that White Rabbit and I could make our break (Silverstreak and Chris were content to wait on the platform and keep watch. Personally, I think they were making out.) While we were waiting, I had a chance to take some photos of the station, which is definately pretty cool in and of itself, being inside a bridge that is well over one hundred years old.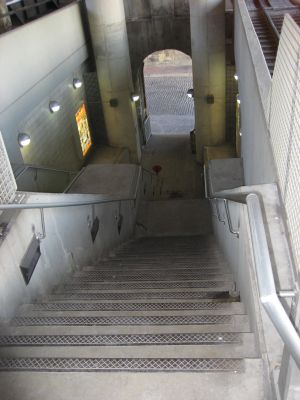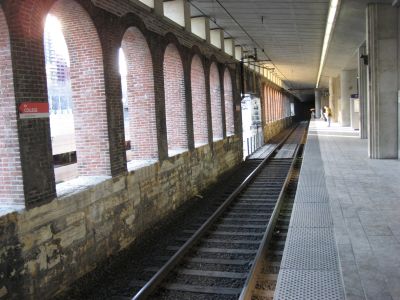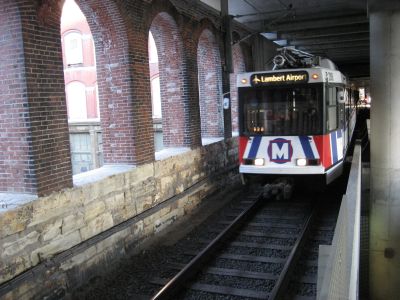 Finally, it was clear and White Rabbit and I jumped down onto the tracks and made a break for it. It didn't take us long to reach the staircase, if you could call it that. Behind an area roped off with caution tape, there was a small shed and an old iron stair leading down into one of the legs of the bridge. Not that I'm an expert on this stuff, but it just didn't seem structurally sound to me.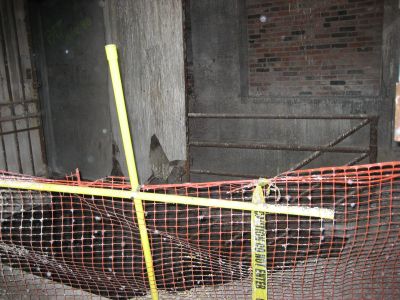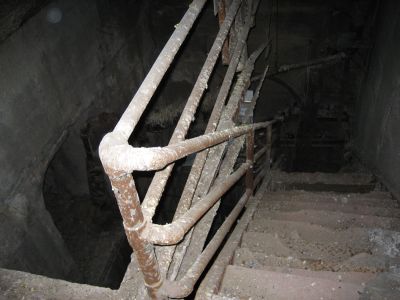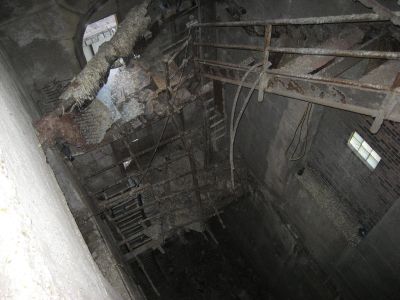 Now, don't get me wrong: I'm stupid. I'm just not that stupid. I have this thing for...I don't know...not getting dead. It was pretty clear that there were other levels below us, but we wouldn't be able to reach them at the moment.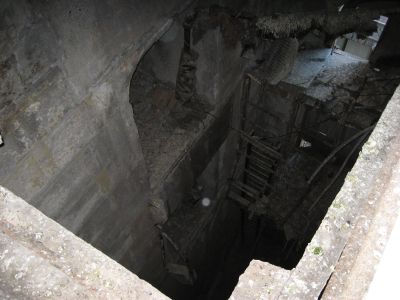 I looked back and noticed that there were a few people on the Metrolink platform, so White Rabbit and I waited for the right moment to return. I took second to take some photos of the station and the bridge heading out over the Mississippi. White Rabbit decided that it would be a cool idea to take a photo of one of the trains as it went by. He was right, it was a cool idea!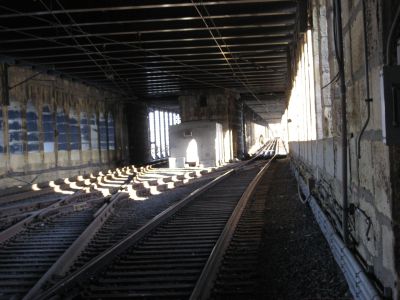 Finally we made our break and climbed back up to the platform. There was only one older gentleman there who saw us, but man did he look confused. We blew down the steps past Chris and Siverstreak as they were getting hassled by some guy asking for money. The good thing is, when you're running, those guys don't try to stop you usually.