A while back I paid a return visit to the Messiah Mills with some non-explorer friends who were begging for a guided tour. Other than noticing a lot of new graffiti in (and on) the main tower, we also stumbled upon something interesting in the smaller one – one of the floors, accessible only by ladder, had been turned into someone's loft apartment. When I say someone, I mean someone who would otherwise be homeless.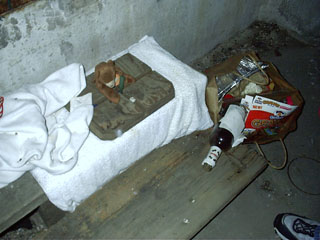 Later, Underdog contacted me and asked to visit their hideaway. I told him I had never been to the Acid Tunnels (I knew their approximate location, but had just never been for whatever reason), and a deal was struck. After enjoying some frozen pizza and discussing Star Trek and Transformers for about an hour, we were on our way.
After making absolutely certain there was no one home, we headed up the ladder to find the site just as I had left it, probably abandoned. We found some makeshift furniture, a small table, and some of the other necessities of life, including a rolled-up knapsack, some blankets, and a bag of (presumably expired) groceries. Whoever was living there had gone to trouble of blacking out the window panes (with fingerpaint, no less) so as to prevent outsiders from noticing the light of their candle, and even painted one of the room's columns. The column was additionally decorated with a fairy sticker, leading us to believe the inhabitant may have been a woman.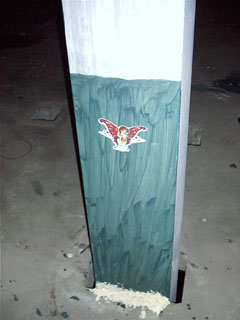 Also noticeable was a bag of garbage, a teddy bear, and a row of bottles along the windowsill, not all of which were empty. It wasn't until I shined my light on them that I noticed they all contained the same yellow liquid…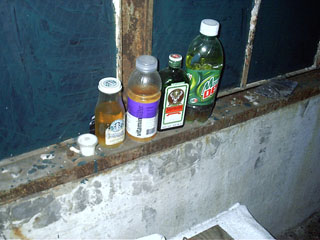 Afterward, UD led me down into the Acid Tunnels. They're nothing new to most readers of this site, no doubt, so I'll skip the fine details. Some of the graffiti there was nice, and I recognized a few of the same taggers from Messiah Mills (there are only a finite number of vandals in Springfield. See enough graffiti and you start to recognize them).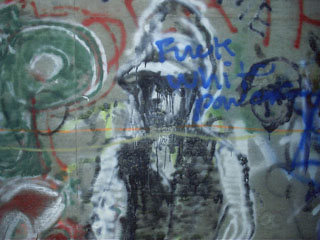 Emerging from the other end of the tunnel, we made the brilliant decision to walk back to the car above ground, which meant playing human frogger on I-44. We tried working our way around the outer roads and overpasses; for safety reasons, and kept our headlamps on to make ourselves more noticeable. At one point we both found ourselves simultaneously falling while charging across a side-road, having tripped over an invisible curb on the unlit highway. I was furious and confused, but unharmed. UD walked away with a nice bloody gash on his leg, which I wish I had the presence of mind to photograph.
We obviously made it back. Ironically, I got conned into returning to the Acid Tunnels by some friends of mine not a week later.