I previously wrote about some larger-than-life inanimate objects in Joplin which were odd, but not spectacular. Well, I recently returned from the beautiful city of Tulsa, OK, so prepare to be amazed. I had gone with my friend TD for non-exploratory purposes (a video game convention), but there were enormous eyesores afoot, and I insisted we pay them a visit.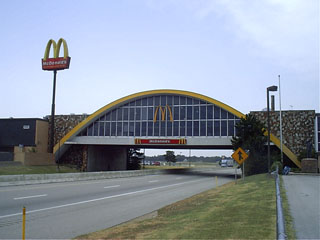 First stop was the world's largest McDonalds, but the less said of that, the better, as most area natives have no doubt been there countless times. In short, it's a former hotel that spans I-44, roughly in the shape of a "golden arch." TD was excited, having never been there, but we were both disappointed upon reaching the top and realizing neither of us actually wanted to eat at McDonalds.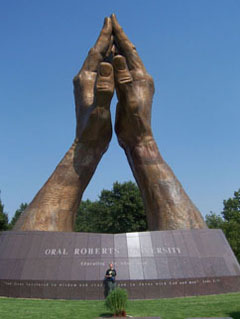 Next up was the campus of Oral Roberts University, which just so happened to be next door to our destination. ORU is home to not one, but two monstrosities. The first is immediately evident – a pair of gigantic praying hands that put those in Webb City to shame. Whereas the previously blogged Web City Praying hands are made of poured concrete on a chicken wire frame and stand a measly 15 feet or so, these are highly detailed, welded together from large bronze plates, and stand a full 60 feet tall. It's actually the largest bronze sculpture in the world, though arguably not the classiest.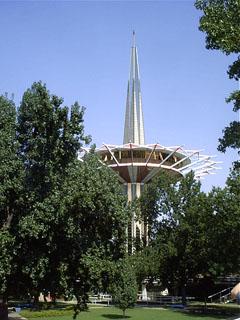 The second fun feature was the Oral Roberts Prayer Tower. The prayer tower is of a similar design to Branson's own Inspiration Tower, though on a smaller scale. The observation deck is designed to resemble a stylized crown of thorns, and an eternal flame burns brightly at the tower's peak. Unfortunately, the tower had closed 15 minutes prior to arrival. I can only imagine what wonders would have greeted us at the top.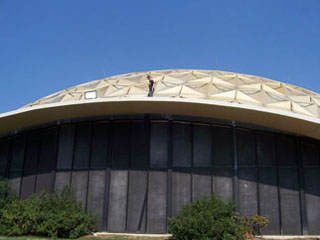 Also worth mentioning – though not worth photographing – is a nearby skyscraper. Once also part of ORU's proud campus, it has since fallen into secular hands. The tower stands at a whopping 640 feet, which, according to legend, is the same size as the Jesus who appeared to Oral in a vision, commanding him to build it. I also managed to find a climbable, dome-like structure on campus, which I of course made short work of.
Our last stop, en route back to MO, was the Blue Whale of Catoosa. The Whale was originally built as a kind of anniversary present and for years functioned as a park, complete with water slide fins and a diving platform on the tail. Several other structures still stand nearby, in various states of disrepair, including a replica Noah's Ark (not to scale), that is being consumed by the encroaching shrubbery.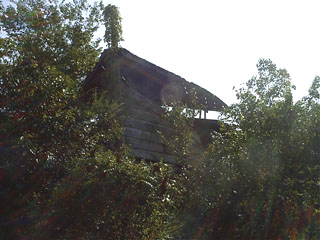 This was my second visit to the whale, and I noticed a marked improvement. Someone cared enough to replace the boardwalk flooring, slap on a new coat of paint, and even add an oversized hook (with rubber chicken as bait) and ball-cap to spruce the place up. Unfortunately, swimming is still off-limits, not that I can imagine anyone wanting to. Nearby, a boat sits in a perpetually half-sunken state, along with other bits of rotting flotsam.