About this time a year ago (hey, better late than never) I took some of our newer (at the time) members out and showed them around Ritter Springs Park. The park is just north of Springfield on Fantastic Caverns Rd. We met up on the northside, and after some discrepancy over where, exactly, we would be meeting, we managed to make it to the park without losing anyone (barely).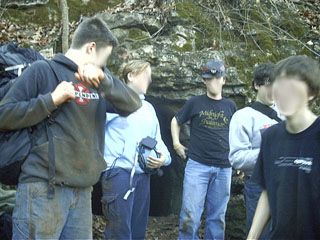 Raccoon, MJames, Colt 45, and Darkcloud of the RACCCC (the Reaching and Cooning Cave Caver's Club – though I may have added an extra "C"), all showed up, along with Piplnr and his wife, and a few strays, mostly local high school kids.
There are three caves at Ritter Springs, two of which are normally open to the public. The third, Bat Cave, is barred and only accessible by special permission… though there may or may not be another way in. After a long walk to the lake - and a cursory search for snakes near the waterfall - we plumbed the first cave; a fairly basic, linear cave with a few crawls and tight corners, but nothing too difficult and no decorations to speak of.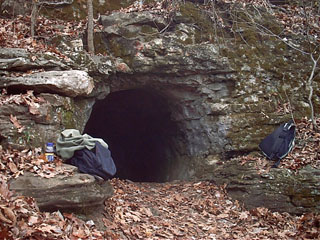 I did manage to find something new in the first cave, that being an odd vertical shaft that Piplnr and I were able to completely stand up inside, though not at the same time of course. It reached almost to the surface, and the ceiling was little more than earth and roots hanging over our heads.
Two of the smaller members of our expedition were also able to squirm down a ridiculously tight side-passage I had never before noticed. I began to follow them, but thought better of it as I watched their feet disappear around a tight corner. The rest of us were left standing around for what seemed like an hour with no way of communicating with the pair. At one point we heard banging sounds coming from inside the wall, and I was afraid they were trapped, but they eventually found a place big enough to turn around and we all made it back all right.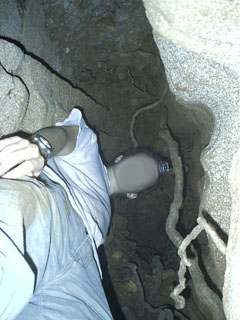 Next I led the group out to see the Bat Cave entrance, and we were able to check out some of the new trails along the way. We eventually reached a bridge, which led me to realize we were going the wrong way, but we weren't far from the cave, and I had no trouble finding it once I got my bearings.
Unfortunately, we weren't so lucky when it came time to track down our third and final cave of the evening. The third cave is actually a large crack in the ground, around 20 feet deep, with cavernous offshoots. There's not much to it once you get down there, but the climb down is worth the trouble.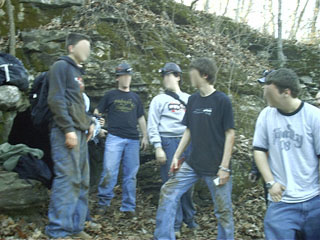 The trails get pretty hairy en route to Cave #3, and we all seemed to have different recollections of the park and different ideas on how to get there. After wandering around for an extremely long time a few of the group decided to split up. We did eventually find the place, but we lost a few people along the way, and it was getting dark by the time we got there. Luckily it's a short cave, and only a couple of people felt like braving my rope, which was barely attached to a nearby outcropping. The airflow was also pretty bad at the bottom, and quickly filled with CO2, prompting us to make a hasty retreat.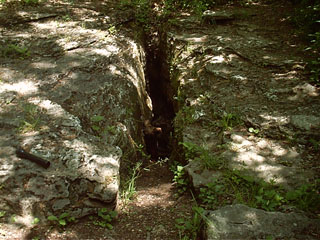 It was dark by the time we got out, and we had to use our flashlights to find our way back, which made crossing the river a lot of fun. There were only a few of us by the time we got back, but luckily one of the people we lost was waiting for us at the parking lot. Piplnr and some others had given up long before we got there.
When we got ready to leave were all horrified to find the front gates closed ahead of us, meaning we were all locked inside the park – or so we thought. I was furious at this point, after being lost in the woods for hours, and considered just ramming the fence, but I decided to check the lock first and lo and behold, some kind-hearted individual had only fake-locked the gate. I waited until everyone else was out, and then fastened the padlock behind me.