The first thing I did when I got to KS was make a bee-line for West Mineral, near Joplin, MO. Why, you ask? To see Big Brutus of course!
For those who aren't in the know, Big Brutus is an enormous shovel of some sort, and while it might not be the world's largest, it's probably the biggest one in Kansas. Brutus was previously used for strip-mining coal beds, but has since been retired in a pit of his own making, just outside the small town of West Mineral.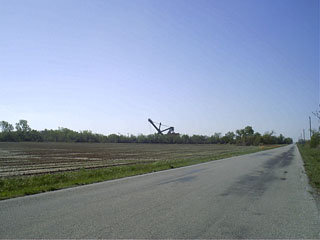 The journey there was long, made longer by a road closing and surprise detour which rendered my Mapquest directions obsolete. I was forced to navigate my way there simply by attempting to drive in the general direction. Arriving an hour or two behind schedule, I caught a glimpse of Brutus from miles away, looming over the distant horizon.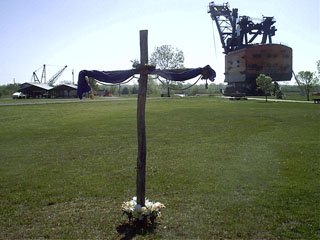 I wasn't quite as impressed as I thought I would be upon my arrival, but that was due in part to the lackluster visitor's center/museum greeted me. My first sight was of an American flag, tattered nearly to shreds. A 6-foot wooden cross, complete with purple robes and hot-glued crown of thorns, stood nearby.
I was soon informed that Brutus was being repainted, and its innards were closed to visitors, though I would still have to pay full admission price in order to see it. I grudgingly paid, and was then informed that, not only was I not allowed inside, but I was to maintain a certain distance on account of the paint crew. Their first rule was heeded. The second was not.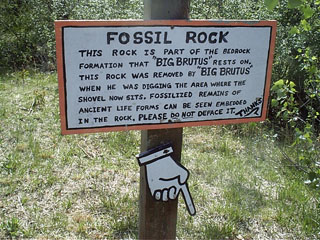 With little to do in or around Brutus, outside of standing in the mouth of its enormous shovel (large enough to drive a truck into!), I was forced to occupy myself with some of the other attractions, which included in no particular order: a cable, a mine cart, a rock, and a smaller shovel, similar in design to Brutus, yet made primarily of wood. There was also a sign, pointing out some nearby fossils. The sign specifically asked visitors not to destroy said fossils.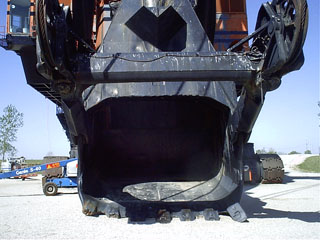 The smaller shovel was the most interesting exhibit, and also happened to be the only one that was open to the public. Climbing inside I inspected the engine, and then settled into the driver's seat after removing a few cobwebs.
After milling around Brutus a while longer I headed back into the museum area, where I viewed some scale models of various types of mining equipment, and watched a short film about Brutus' creation and ultimate defeat. I purchased a refrigerator magnet on the way out, and received a scolding from the proprietors for failing to follow their instructions.