I woke up this morning to discover that a building had collapsed over the night on the square in downtown Bolivar, less than a mile away. Check it out. It's pretty cool.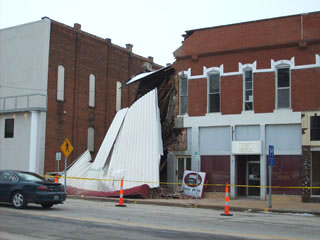 As soon as I got around to it I ventured downtown and, stashing my vehicle, preceded to inspect the site. One whole side of the square had been blocked off, and emergency vehicles surrounded the area. I was able to get surprisingly close before I was stopped by caution tape.
The scene was similar to the incident in Clinton last year, in which an older building of similar design unexpectedly collapsed during an Elk's Club meeting. Fortunately, this one had gone down late at night, after all the businesses had closed. Consequently, there were no injuries.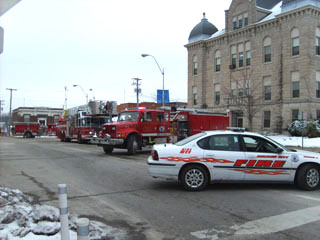 The building is over 100 years old, and the collapse seems to have been localized entirely within the "Daily Grind" coffee house, leaving the remaining ¾ of the structure intact. Unfortunately, I doubt the rest of the building can be saved, as it probably shares whatever structural defect brought down the corner store.
At this point there's no indication as to what brought down the building, exactly, but I'd wager it had something to do with the weight of the ice coupled with a leaky roof. From the ground it was possible to see quite a bit of ice still clinging to what had been the top of the building.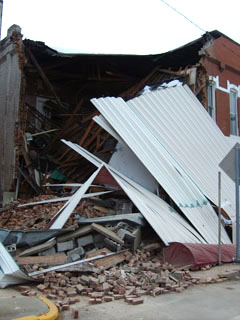 When I was younger the store was known as "Asia World," and I recall sneaking into and exploring the catacomb-like interconnected cellars beneath it, which were accessible through a back alley entrance and included trap doors that had led back into the various storefronts once upon a time.
The local news vans were just starting to show up as I was leaving, but unlike White Rabbit I wasn't lucky enough to catch any news-making footage of the collapse or make out with the local Asian reporter. I returned home (and by home, I of course mean someone else's, as I'm currently going on two weeks without power) just in time to watch a live report broadcast from the scene.