When I started this feature last spring I did several stories in a row all having to do with bridges, after which I swore them off for a time. That time is now over. I visited two unique bridges over the summer, one of which no longer exists (in a sense); the other I discovered quite by accident.
The first was one I had visited several times in the past, though under different circumstances. It was an old railroad trestle that had been recently rebuilt into a footbridge for the Ozark Greenways Trail between Bolivar and Springfield. It was the second longest bridge on the trail, and was quite impressive, having undergone extensive reconstruction efforts.
That is, until the fire.
I heard about it while I was still in Kansas, and made it a point to check out the aftermath as soon as I returned home.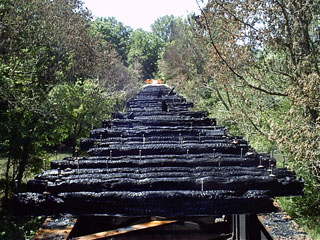 Someone – who to the best of my knowledge remains at large – decided it would be a good idea to set fire to the bridge. Investigators discovered the fire was actually lit at three separate points along the length of the bridge, which rules out an accident. It could have been the work of a disgruntled farmer, many of which hold grudges against the railroad for reasons I'd rather not get into here. One thing's for sure: whoever meant to burn it sure got the job done.
Zen Master and I decided to take a bike trip out to see the aftermath, as the bridge is only readily accessible by bike or canoe, and the river was down. It wasn't pretty. The bridge, which was only recently completed, was charred beyond recognition. The railroad ties that remained had been reduced to charcoal. It was a total loss. The bridge had stone supports, which were unharmed by the blaze, but the rest will have to be replaced and essentially rebuilt from the ground up.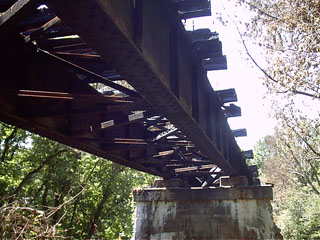 Ozark Greenways does have plans to rebuild the bridge, eventually replacing it with a concrete structure, but at the moment it's blocked off on both ends, and there's no easy way across the Sac River some 40ft below, which is no doubt a problem for the bikers who once frequented the trail.
The second, near Morrisville, MO, is known locally as "South Bridge," and is located a few miles downstream from the burnt bridge. I'm not exactly sure what drew us to this particular bridge, or why I was milling around beneath it, but what I stumbled upon was shockingly bizarre. I've seen plenty of graffiti under bridges, but nothing quite like this.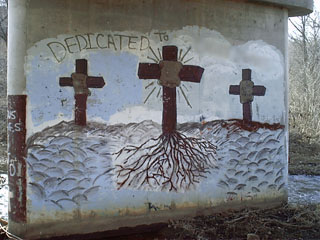 This particular bridge has been transformed into a memorial (to someone whose name I've removed from the images), and the entire underside is now plastered in random bible verses and vaguely inspirational messages, such as "JESUS" and "WWJD?"
As someone who always enjoys unusual religious sites, which – from Messiah Mills to the various praying hands – our area has no shortage of, I was pleased with my discovery. There's not much more to say, so I'll let the pictures speak for themselves: