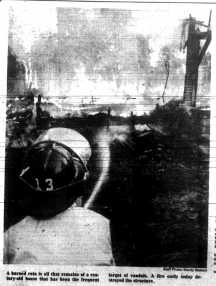 Fire levels century-old city house

by Barbara Clauser

The 100-year-old house on the old Sheedy farm north of Greenlawn Cemetery was destroyed by fire earlier today.
It could not be determined if the blaze was set by arsonists, sheriff's deputies said, because the house was burned to the ground.
Labor Day blazes, believed to have been set by arsonists, destroyed the roof of the house, heavily damaged the second floor and destroyed a barn on the property.
A neighbor who woke up and saw the fire about 5:30 a.m. today told deputies the house was engulfed in flames.
Volunteer firefighters reached the scene in six minutes, deputies said, but they were too late to save the structure.
Firemen from Ebenezer, Pleasant View, Civil Defense and Fair Grove answered the call.
John O'Gorman, one of the seven heirs of the estate, said the appraised value of the house was about $20,000, but that it would cost about $200,000 to rebuild.
The two-story house had 11 rooms, an attic, and a full basement.
It was built in 1880, but the Sheedy family completely remodeled and enlarged the house after buying it in 1950. The last resident, Helen Sheedy, died in January of 1979.
O'Gorman said vandals began breaking windows and tearing down fireplaces about 1½ years ago, after a public sale was held.
Electrical power to the house was disconnected after the sale.